"Your work is going to fill a large part of your life, and the only way to be truly satisfied is to do what you believe is great work. And the only way to do great work is to love what you do. If you haven't found it yet, keep looking. Don't settle. As with all matters of the heart, you'll know when you find it." Steve Jobs
I remember when I first started working on my application for an internship, at the building of the University College of Northern Denmark in 2015. I was studying Sport Management at the university, and by that time, I knew that I wanted an internship within the football industry, and marketing/communications related. What better place to go for an internship within the football industry? For me it was England, specifically London, a city where people "breathe" football. After preparing my CV and motivation letters, I started sending applications to some of the best and historic football clubs in London. After 2 months of determination, patience, and persistency, I received a positive answer, from one of my preferences: Queens Park Rangers Football Club.
My tasks as a marketing and media intern
I was placed as a marketing and media intern, working in-depth with three departments: Community Trust, Marketing, and Media and Communications. Most of my tasks were always interconnected with the three departments, both during the week and on matchdays. That's one of the most important things I've noticed during the internship: the closeness that exists between all the departments. If all the departments of the club achieve their objectives and goals, that should in the end contribute to the club's mission and vision.
At the Community Trust, I soon auto-proposed to develop the social media strategy of the department. Growing the digital community among club's supporters, improving social media content, assisting the Football Development Manager in developing QPR Soccer School's social media, and covering events within the Trust's many social projects were my day-to-day responsibilities. While at the marketing and media and communications departments, I've worked very close to the Brand Manager and Multimedia Manager, especially on and around matchday. I assisted with scheduling, managing and hosting fan engagement events and coordinating with the club's designer and media partners to ensure that all branded material was delivered according to the requirements. I was also able to massively developed my social media competences, both when posting and monitoring, and became even more passionate about sport communication through social media platforms.
The thing I enjoyed most about working at QPR was the dynamic that I constantly found on my tasks. One day could include me doing simple administration tasks like answering emails to creating graphics or editing photos for social media using Adobe Photoshop/InDesign; continuously observing, analysing or posting on Twitter, Facebook, Instagram, Snapchat and Youtube; assisting the club's Brand Manager setting up the PA announcer script, the photographer's agenda and the TV schedule (for the giant screen); assisting the Multimedia Manager with media content for different social media platforms and covering events of the club or even participate in pre and post-match meetings.
Unforgettable Moments
Besides some overwhelming late goals and thrilling wins, some of the most unforgettable moments were: when I first covered a match on the club's Snapchat account, having a partnership meeting inside the Wembley Stadium and with a view to the pitch, and assisting on the Forever R's Club launching, an ex-players' association.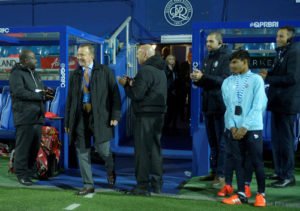 Almost every morning, I would arrive at the office, and do my morning ritual. I would seat at the South Africa Road stand, enjoy my cup of coffee while looking at the pitch, and appreciate the opportunity I was living. I'm proud to say that I enjoyed my internship 150%. I tried to be always the first in the office and the last to leave. I figured that 3 months isn't that much time, so I had to make the most of every opportunity I was given and more.
Passion is key to success
Working in the sport industry is completely different from most jobs. I realized that this kind of industry, especially a professional club, isn't for everyone. If you want to work in sports, you need to be ready to give up weekends and holidays, or even jump in the mascot suit if needed! One really must be passionate about it. While at QPR I felt that passion, that eager to always do better, to never quit even when under pressure, to reflect about what went wrong and know how to improve in the future, all this for the brand and the club that I soon started to support as a fan.
To contact André, visit branded.me/andrecerqueira.